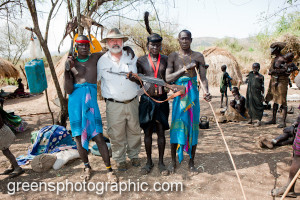 My name is Howard Green. I was born and raised in Northwest Florida just below the Alabama line and graduated from Auburn University with a degree in Wildlife Biology. I met Becky, my wife of 40+ years at Auburn and we married after we graduated university and while I was serving in the USMC. We have a grown son and daughter, 3 granddaughters and grandson. When I got out of the USMC I started working overseas (Saudi, Iraq, Afghanistan, Africa, Norway, Mongolia, Haiti, et. al.) and my wife took a job here as the local high school band director. She has since retired and stays busy with her free lance photography business taking pictures and teaching photography seminars.  
We moved to Hinton on July 4th, 1990 when my wife bought our home on Madams Creek. I came home on R&R and moved the family in and returned to Saudi in time to ride out the first Gulf War there. My son and daughter finished high school and university here. My wife and sometimes the kids joined me in the summers and school breaks and we vacationed and she photographed landscapes, people and animals all over Africa (Kenya, Cameroon, Central African Republic, Ethiopia, South Africa, Namibia, Botswana, etc.), South America (Ecuador, Peru & Galapagos), Europe, Mongolia, Thailand, etc. We scuba dived the Red Sea for several years while I worked in Saudi Arabia.
Check out greensphotographic.com to see some of the places we have lived and visited or call if you need any photography work.  
We hosted 7 different foreign exchange students and as a result, we have foreign "families" in Germany, Norway, Finland, Sweden and Serbia. We have been over to see all of them and all have been back for visits. It was great fun and very educational to get a personal perspective on other cultures.
I love the outdoors whether hunting, fishing, scuba diving, gigging frogs, and trekking the wild and remote places. My adventures (mishaps?) so far include getting cut by a wild hog as a child in Florida, cottonmouth strikes, survived a vehicle plunge/flooding into a canal off the Suwannee River, was scudded in the first Gulf War, survived rocket and mortar attacks in Iraq and Afghanistan, rode out a coups attempt in Africa, was charged by a silverback gorilla in the jungle in the CAR, got electrocuted by an electric ray in the Red Sea, lost a thumbnail to a porcupine puffer fish bite there also, chased a black Mamba and lost a tug-of-war with a python in Ethiopia, have been charged by several bull elephants, dived with monstrous whale sharks in Thailand and swam and bathed in the Amazon River with piranhas/caimans/anacondas, been within reach of wild anacondas in South American jungles, rode out typhoons in Okinawa, hunted with the pygmies, rode yaks with the Mongolians, and other similar events around the world. I've eaten some of the strangest foods imaginable cooked over open fires or stoves made of barrels, tire wheels, and rocks. It has been an interesting life so far.
I finished working overseas with my tour in Guinea in West Africa in December 2012 and have enjoyed the time off since then with our grandchildren, and by hunting, fishing and working on our place. I love deer and turkey hunting on my property and fishing for bluegills, crappie and big catfish in the local rivers. My wife has taken some great pictures of the eagles, minks, deer, aquatic birds and other local wildlife on and around the river and lakes while we fished.
I enjoy working outside and, to help fill some of my spare time, I purchased a new Woodmizer LT35 hydraulic portable/mobile sawmill in January 2015 to set up a mobile lumber sawing service.  I have used it to cut small orders here at my home in Summers County WV but since my mill is portable I mostly provide mobile sawing services cutting larger orders at the customer's sites in the local southern WV area (Hinton, Alderson, Princeton, Beckley, Fayetteville, etc).  There are other, mostly stationary, mills in the area but since I do mobile sawing with my portable sawmill I can be more responsive to my clients needs. I can come cut your logs on your site if you have a larger order to fill. On-site sawing saves the customer time and money on transportation and labor since they do not have to load and transport their logs as far.
I am a senior member of The Forestry Forum and have cut over 81,000 bf of lumber to date. Types of logs/lumber I have cut include Tulip poplar, Red, White and Chestnut Oak, Hickory, Norway Spruce, White and Yellow pine, Hemlock, Maple, Black walnut, Cherry, Black locust, Buckeye, Basswood, Ash, Mulberry and Beech. As a related service I have recently started making primitive benches using live edge slabs and mortise and tenon joinery techniques. I also sell some lumber, live edge slabs, fireplace mantels, tomato stakes, crib blocks, etc. from thinning excess trees and from salvage such as dying ash or from dying and fallen trees on my property. I mostly use an ATV but also have a friend with a team of mules who can remove logs from places otherwise inaccessible with minimal damage to the environment
(Last updated – 5/22/2018)